I recently received an email with details on a new digital photo frame called the FrameWizard that transforms your still 2D photos into a kind of pseudo 3D, with various moving elements on within the frame. I have yet to get my hands on one to offer a proper review but I thought it was such a unique variation of a photo frame that I thought I'd do a little preview.
The frames come in 2 sizes - 8 inch and 15 inch - both of which have native resolutions of 800 x 600 and 1024 x 768 respectively. They come with a decent 2GB of internal memory and accept most memory cards, although the 8 inch doesn't take compact flash.
The frames come with the following software effects:
Moving MemoriesTM
Create amazing life-like, natural movement for people, pets and objects.
The user determines where to add movement to a still photo by selecting the desired area(s). Compelling software that has real-life interactive functionality.
Create personalized actions such as winking, blinking, smiling or nodding and add realistic cause and effect motion like wind that blows hair in a certain direction or sways tree branches.
Element EffectsTM
Engulf a photo in beautiful, moving motion environments.
Create weather effects from snow falling to leaves blowing to waves crashing on the beach, etc.
The user can re-create a mood or enhance the theme of a photo occasion by adding streaming confetti, flickering birthday candles, fireworks and more.
Matte MagicTM
Allows the user to choose from a virtually unlimited color palette along with the ability to select border size and textures.
Scan fabrics or wallpaper swatches to match any décor and add customizable text for further personalization.
The only matte software created specifically for digital frames.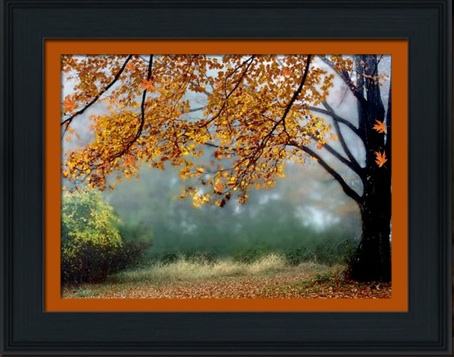 These effects have to be applied using your PC or Mac and presumably uploaded to the frame. The first image included in this post of the sisters shows the image with the added movement of the sea behind them and their eye moving and eyes blinking. The tree (above) gives the impression of movement with leaves falling with the element effects, and this can also create moving smoke as shown on the black and white below.
This is a new product that was featured in CES 2010 and may have minor updates to the software when it hits the mainstream. Obviously there is other software that can do this kind of thing but nothing that I know of that is this specific. I will hopefully be conducting a full review in the next few weeks. In the meantime you can see the animated versions of these images on their website framewizard.com.